Iraqi bishop: 'We are hated because we persist in wanting to exist as Christians'
Sunday, February 8, 2015
We are hated because we persist in wanting to exist as Christians. In other words, we are hated because we persist in demanding a basic human right.
By Archbishop Bashar Warda
CHRISTIANITY in Iraq is going through one of its worst and hardest stages of its long history that dates back to the first century. Throughout all these long centuries, we have experienced many hardships and persecutions during which we offered caravans of martyrs.
During the past year, more than 125,000 Christians have been forced to flee from their villages only because they chose to remain Christians and refused the conditions ISIS imposed on them. They had to leave at night, under the cover of darkness. Many of them trod their own path of Golgotha for long hours, having left everything behind, other than their bare clothes.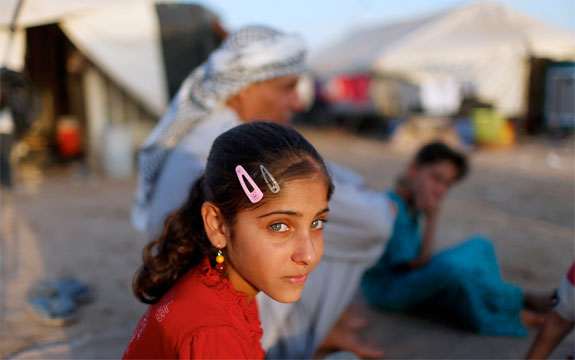 Today, we have families that are relying completely on the charity of others. Less than a year ago, these same families were living in their own houses and were self-supporting, with sufficient or abundant regular incomes. These days, we pray in tents, having left behind ancient churches that told the story of a flourishing Christianity, blessed for centuries with strong, willing believers and martyrs.
Too many families have lost confidence in their homeland. This should not surprise anyone. The homeland of Christians has rejected them and thrown them up. They have chosen to emigrate to the unknown, confident that they will be more secure. Our friends and families are queued up, waiting for months and years in Turkey, Lebanon, and Jordan for a chance to move again, maybe for the last time, to North America, Europe, or Australia.
It is an understatement for me to simply say that we are in desperate need of financial and material support so that our families may stay and survive, or depart and survive. This crisis is one of chronic urgent need.
For the Chaldean Church, and our sister Churches of the East, the persecution that our community is enduring is doubly painful and severe. We are personally affected by need and by the reality that our vibrant Church life is dissolving in front of our eyes. The massive emigration that is now occurring is leaving my Church much weaker.
This is a deeply sorrowful reality. We who are part of the Church hierarchy are very often tempted to encourage our parishioners to stay—to keep the presence of Christ alive in this special land. But truly I and my brother bishops and priests can do no more than to advise young mothers and fathers to take all the necessary considerations into account and to pray long and hard before taking such a momentous, and perhaps perilous, decision.
The Church is unable to offer and guarantee the fundamental security that its members need to thrive. It is no secret that hatred of minorities has intensified in certain quarters over the past few years. It is difficult to understand this hate. We are hated because we persist in wanting to exist as Christians. In other words, we are hated because we persist in demanding a basic human right.
There are two things that we, as a Church, can do: the first is to pray. The second is to use the relationships and networks we share in as part of the Church of Christ as a pulpit to raise awareness about the true risk to our survival as a people. I cannot repeat loudly enough that our well-being, as a historic community, is no longer in our hands. The future will come, one way or the other, and for us this means waiting to see what sort of aid (military, relief aid) arrives.
This text is excerpted from a Feb. 11, 2015 address given by Chaldean Archbishop Bashar Matti Warda of Erbil, Iraq to the General Synod of Anglican Bishops in London.
ACN photo: IDP in Erbil